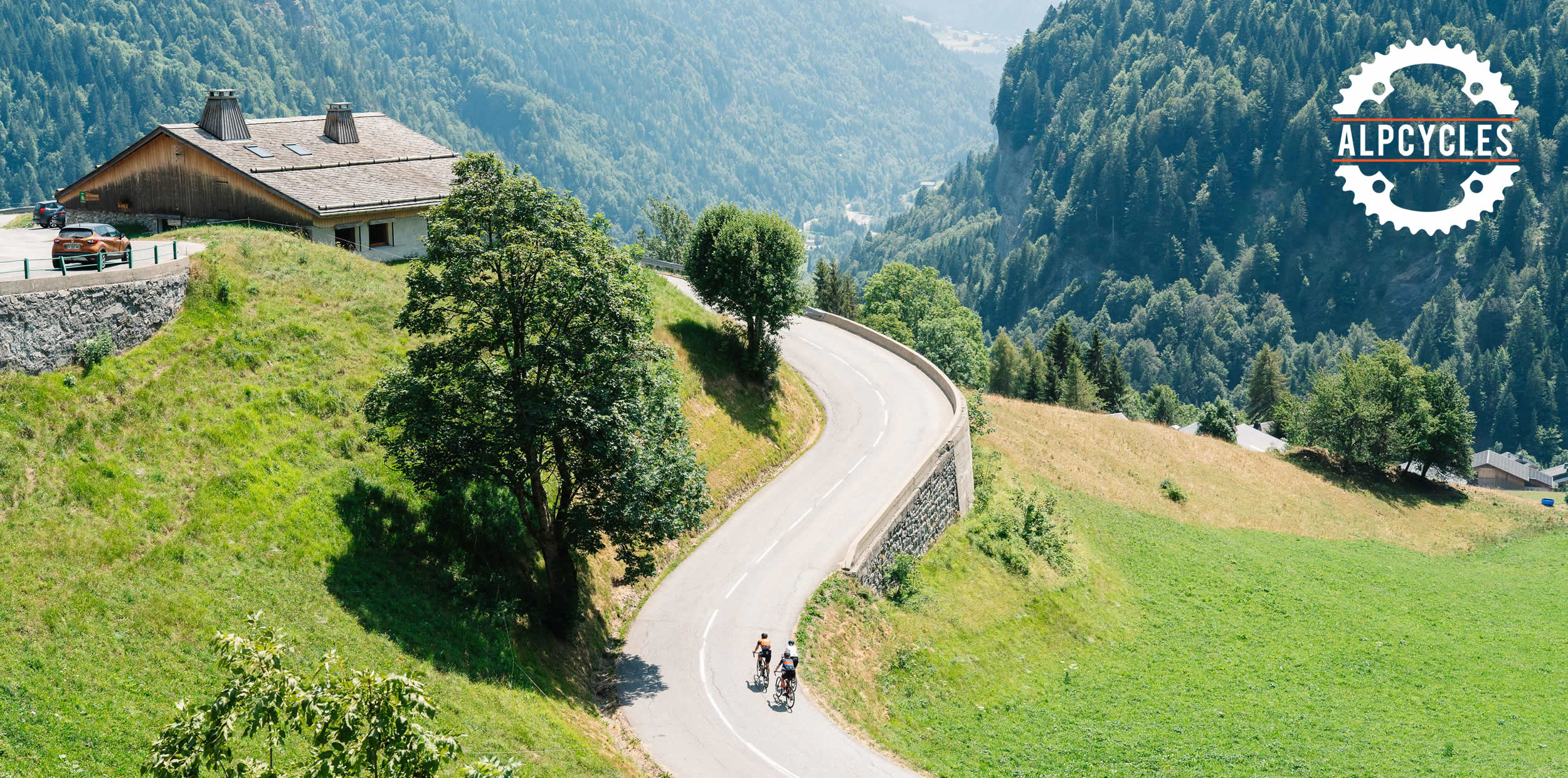 Tour de Mont Blanc Cyclo 2023
Intro
Tour de Mont Blanc Cyclo 2023 Travel Package
The Ultimate One Day Cycling Challenge.......as Tour Operators for Tour de Mont Blanc Cyclo 2023 we can say this truly is The Daddy of cycling events!!! The course traverses three countries in one day; France, Switzerland & Italy within a 338km curcuit with 8500 meters of climbing. Taking in a "sharks teeth" course of classic climbs such as; Col du Petit St Bernard (2188m), Col du Grand St Bernard (2469m), Cormet du Roseland (1967m) and finishing with final climb up to the alpine resort of Les Saises (1648m) this is a truly breathtaking Ultrafondo in every sense.
This UltraFondo can be undertaken as a SOLO Rider or DUO Riders, allowng you to relay with another person. Alpcycles are Official Tour Operators and our crew will be with you every step of the way with hand-picked accommodation in the heart of Les Saises and support out on the course, keeping you fed & watered with all those special Alpcycles touches that allow you to EAT * SLEEP * RIDE and enjoy your event.
Tour de Mont Blanc Cyclo 3 Night Travel package:
3 Night Package: Thursday 13/07 to Sunday 16/0723
Twin Room Accom & Support Package = €1,250 per person
Single Room Supplement = €300 per person
The event day is: Saturday 15/07/23
Entry for SOLO riders is included
Single rooms are limited - book early
A medical form or race license is required for this event
COVID 19 Safety protocols are follwed by every member of the Alpcycles Crew for the safety of both our guests & staff
Tour de Mont Blanc 2023 Alpcycles package:
Airport transfers for you, your bike and luggage to and from Les Saises at set times
Allocated Airport for

Tour de Mont Blanc is Geneva International Airport

The Alpcycles team there for the full event to support you all the way
3 nights Half Board in 3 Star Family run hotels in the heart of Les Saises
Twin share & single ensuite rooms - supplement payable for single rooms
Breakfast everyday and evening meal on 2 nights
Bike set up, tools, track pumps and secure bike storage
Additional 3 x Alpcycles VIP feedstations in selected Official Feedzones
Mechanically minded staff team and everything hosted by us
The Alpcycles crew there to see you off and welcome you in
The option to add your Event Entry (see main info page)
The knowledge, enthusiasm and support of the Alpcycles team throughout your stay to ensure you have the best experience ever….so if anything else needs thinking of, we have probably already have.
What's not included in our package:
Your flights
Insurance for you and your bike
Drinks with hotel meals and anything not outlined above
Itinerary 2023
Your itinerary for the weekend - subject to change

Thursday – Arrival day
Today we will have a scheduled airport transfer from Geneva International Airport (GVA) at a set time and head to our hotels in Les Saises. We will adjust this time and make every effort to get you all into resort as quickly as possible, so please look for morning flights. Note: please do not book any flights until our scheduled times have been confirmed. Please find more information about the hotel on the "Accommodation" tab on this page as it is updated.
On arrival the crew will assist with bike building/set up and later our own Alpcycles briefing at dinner for our guests. The crew will be on hand all afternoon/evening if needed
Friday - Pre-Event Day
After an good breakfast riders will have the day to prepare and make those final preparations to you bike, kit and nutrition including ensuring you have any items you want on our additinal VIP feedstations. The Alpcycles crew will be on hand during the day to assist you with anything they can. Bibs & Race packs can be collected in the afternoon. Early evening we will have dinner and the Alpcycles team will give a Race Breifing for all our riders to ensure you are ready for your event.
Good Breakfast
Alpcycles Team on hand all day
3 Course Evening Dinner & Alpcycles rider briefing
Saturday – Event Day
With a 0500am start time its hard to call it "breakfast" this early in the day, but we will be with you to get you started this morning and to the start line on time. By the time the sun rises you will be well on your way to a truly challenging ride with unforgettable scenery. Throughout the day you will get to see the friendly & supportive faces of the Alpcycles crew at strategic points on the route armed with nutrition, including lots of homemade savoury & sweet goodies, as well as tools/pumps etc for those handy bike tweaks.
Super Early Breakfast
3 Course Evening Dinner
Sunday - Departure
Today you wake up "King of the Mountains".....or "Queen of the Mountains" of course. You nailled it!
After breakfast we will transfer our guests back to Geneva Internstional Airport (GVA). Transfer schedules will be released at a later date but please look for afternoon/evening flights. Please contact Shelley at enquiries@alpcycles.com if you have any questions
Accommodation
For the Tour de Mont Blanc Cyclo Ultrafondo our hotels will be confirmed based in Les Saises. In the centre of the resort we are perfectly located for both the start & finish of the event.
If you have any dietary requirements please be sure to let us know when you book your package with us.
Please contact Shelley at enquiries@alpcycles.com or sign up to our newsletter (right) for Priority Booking price for these packages.