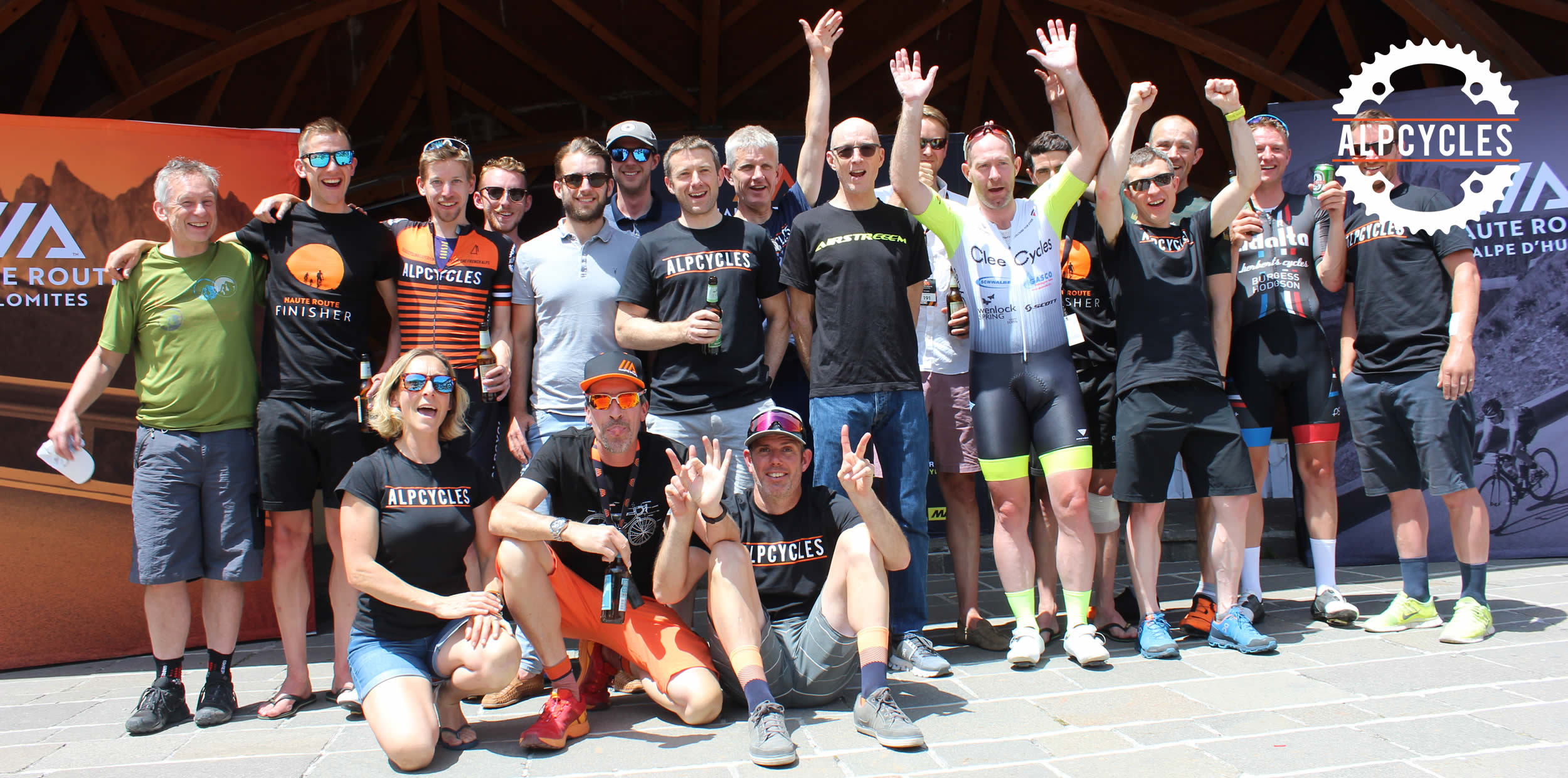 Haute Route Dolomites 2023
Intro
Haute Route Dolomites 2023 Travel Package
As Tour Operators for Haute Route Dolomites 2023 we know how iconic this 5 Day Event from Bormio to Cortina d'Ampezzo. You can ride the 4 epic stages & Time Trial all set in the jagged landscape of the stunning Italian Dolomites. Alpcycles are Official Tour Operators and our package includes all those special Alpcycles touches that allow you to Eat - SLEEP - RIDE - REPEAT........You will "ride like a pro" supported by the best team around, spending 7 nights in our 3/4 Star**** family run hotels. This event is not to be missed by any rider intrigued by the Haute Route Events and challenges, as well as the best food & coffee ever.
All of our packages include FULL ENTRY. To travel with an Official Tour Operator you must buy a full entry & accommodation/logistics package. We are unable to sell you a package without an event entry
Haute Route Dolomites 5 Day event:

our 7 night package is 27/08/23 - 03/09/23 (departure day)
Twin Room = €3699 per person
Full HR Entry is included in the package
Single room supplement €650 per person and subject to availability
Haute Route Dolomites 7 Night Travel package:
Bormio to Cortina d'Ampezzo - route to be confirmed 13/10/22 at 4pm
The event dates: Registration Day is 28/08 then Stages 1-5 are 29/08 to 02/09
Alpcycles Travel Package: 27/08 to 03/09/22 - 7 Nights
Single rooms are always limited - book early
Haute Route Dolomites Alpcycles package:
Airport transfers for you, your bike and luggage to and from the start & finish towns
Full Haute Route Entry with all benefits assciated with that
The Alpcycles team there for the full event to support you all the way - with our famous VIP Tent in the Finish Village daily for our riders, full of homemade goodies, coffee and a cold beer (of course)
7 nights with 5 Half Board in 3 & 4 Star Hotels
Twin share & single ensuite rooms (book early for single room availability)
Breakfast, lunch (provided as part of your entry) and dinner everyday
Shuttle service from TT finish if required (bad weather)
The Alpcycles team there to see you off and welcome you in every day.
Mechanically minded staff team and everything hosted by us
A member of the team to visit the briefing every evening and feedback the race info to our guests
Additional Alpcycles feedstations in selected Official Feedzone plus Day Bag Service - your things where ou need them to be each day.
The knowledge, enthusiasm and support of the Alpcycles team throughout your stay to ensure you have the best experience ever….so if anything else needs thinking of, we have probably already have.
What's not included in our package:
Your flights and travel to us
Insurance for you and your bike
Drinks with hotel meals and anything not outlined above
Itinerary 2023
Haute Route Dolomites 2023: Bormio - Cortina, Sunday 27th August - Sunday 9th September
Sunday 27/08: Arrival Day - we will have a pick-up from Milan Malpensa at a set time. Please check with us before you book flights
Monday 28/08: Registration Day - Bormio
Tuesday 29/08: Stage 1 - Bormio to Bormio inc Stelvio (84km)
Wednesday 30/08: Stage 2 - Bormio to Trento inc Predaia (120km)
Thursday 31/08: Stage 3 - TT of Monte Bondone (20km)
Friday 01/09: Stage 4 - Trento to Cortina inc Falzarego (143km)
Saturday 02/09: Stage 5 - Cortina to Cortina inc Valparola (78km). Finishing ceremony this evening
Sunday 03/09: Departure Day - we will have a drop-off at Venice Marco Polo Airport at a set time
Accommodation
Nothing can match Italian food & hospitality. For our Haute Route Dolomites 5 Day we will once again be staying at our wonderful family run hotels.
Bormio - Hotel Genzianella
Cortina d'Ampezzo - Hotel Triestre
Further hotels to be confirmed
If you have any dietary requirements please be sure to let us know when you book your package with us.